The SEC has appointed AmeriCorps inspector general Deborah J. Jeffrey to take over the SEC's Office of the Inspector General (OIG), filling a position that's been held by acting staff for almost a year.
She will become responsible for overseeing an agency facing opposition from the industries it regulates, the legislators to which it answers, commissioners who doubt the wisdom of its agenda, and staff who reportedly lack confidence in their own ability to keep up.
Jeffrey has b
een inspector general for nine years at AmeriCorps (formerly the Corporation for National and Community Service), an independent U.S. government agency founded as a domestic version of the Peace Corps, which spends slightly more than $1bn per year on grants and stipends for programs involving more than five million volunteers nationwide.
As inspector general at AmeriCorps, Jeffrey monitored the approval and distribution of national grants and created an anti-fraud enforcement program and promoted efforts to improve financial management and accountability.
Before joining AmeriCorps in 2012 Jeffrey spent 25 in private practice, working mainly on white-collar criminal issues and civil enforcement — including cases involved in the Enron scandal — advised lawyers and law firms on ethics, risk management and the development of internal controls and SEC regulations, especially Sarbanes-Oxley.
As a partner at Zuckerman Spaeder, LLP she served as in-house counsel on ethics and loss prevention. She was appointed by the District of Columbia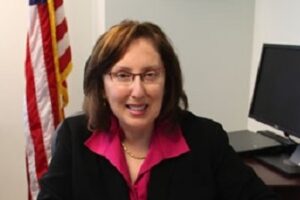 Court of Appeals to enforce rules of professional conduct for attorneys, and wrote more than 30 appellate opinions in disciplinary prosecutions during her time as vice-chair of the D.C. Board on Professional Responsibility, according to her AmeriCorps biography.
The OIG has been led for 11 months by a rotating cadre of acting IGs, including Nicholas Padilla, Jr, who left the agency two months after issuing a report highly critical of the SEC's operations under current chair Gary Gensler.
Jeffrey will start work on May 7, exactly one year after the departure of her predecessor Carl W. Hoecker, who had been IG since February of 2013, but left in the wake of a February 2022 Reuters article about a 2019 watchdog-group report that accused Hoecker of botching an internal harassment investigation so badly the watchdog group recommended that he be fired.
Hoecker denied the accusation, which was republished in a December 2021 report by the Project on Government Oversight (POGO) that went into more detail about the 2017-2019 investigation into a potentially improper relationship between two members of the IG's office and Hoecker's role in the investigation.
Hoecker was not fired, but did receive seven days of unpaid leave during 2020, according to Reuters. The April 2022 press release announcing Hoecker's retirement included praise from Gensler – who took over as SEC chair in April 2021 and announced that Rebeca Sharek, deputy IG for audits and Evaluations, would take over as acting IG in Hoecker's absence.
Sharek was only one of at least four senior-level members of the Office of the Inspector General (OIG) who have taken on the role of acting inspector general (AIG) during the past year.
During his time as AIG, Padilla oversaw the release of the October OIG report that put weight behind complaints about the high pace of the SEC's rulemaking, highlighting the higher-than-average turnover among SEC staffers and documenting the widespread fear among those who stayed that the agency's staff would not be able to keep up the pace set under the Gensler administration.
Padilla retired very soon thereafter,  according to a December Bloomberg Law story that cited SEC staffers who said the timing of his retirement after 38 years of government service was unavoidable and had nothing to do with the critical response to the report.
The SEC didn't mention Padilla or the OIG report in the press release announcing Jeffrey's appointment. Gensler did thank three others for taking on the role of acting IG during the past 11 months; however, beginning with Sharek – who had gone back to her current title of deputy IG for audits, evaluations and special projects, by the time she was called to testify before the U.S. House of Representatives Committee on Financial Services March 8.
He also thanked Helen Albert, deputy IG for operations and management, whose role as AIG was clear enough that five Republican senators wrote to her in that role to ask that she launch an audit to be sure the SEC was following all the relevant rules and requirements while developing rules it intended to apply to other organizations.
The current bearer is Katherine Reilly, who has been deputy IG for counsel to the inspector general since April of 2020, added responsibilities as the acting deputy IG for investigations in December, and stepped up in April to acting inspector general, according to information she posted on LinkedIn.
Deborah J. Jeffrey
AmeriCorp Inspector General, 2012 – 2023
Zuckerman, Spaeder, Goldstein, Taylor & Kolker, LLP, 1989 – 2012
Court of Appeals, Fourth Circuit, 1985 – 1986