The SEC, which may be facing more than its usual amount of time defending its rulemaking in court during the coming year, has announced it will face that challenge with a new top lawyer following news that SEC general counsel Dan Berkovitz will leave the agency Jan 31.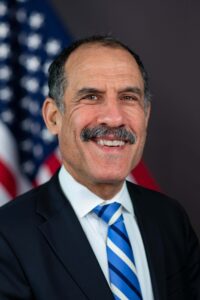 Stepping in to fill the role as the SEC's lead attorney is principal deputy general counsel Megan Barbero, who joined the SEC in July of 2021 after high-profile roles as a litigator working for the U.S. House of Representatives and the Dept. of Justice.
Berkovitz, who has spent 34 years as an attorney for the U.S. Senate and Dept. of Energy, as well as for the CFTF, is leaving "to pursue new and different challenges and opportunities," according to the SEC announcement of his resignation, which will be effective Jan. 31, 2023.
Berkovitz joined the SEC in November of 2021 after serving for three years as a commissioner of the U.S. Commodity Futures Trading Commission (CFTF), which he also served as general counsel from 2009 to 2013.
In between, he spent five years as a partner and co-chair of the futures and derivatives practice at law firm WilmerHale, an adjunct professor at Georgetown University Law school and vice chair of the American Bar Association's Derivatives and Futures Law Committee.
His career in public service began in 1985 with a 10-year stint as counsel to the U.S. Senate Committee on Environment & Public Works. He served as deputy assistant secretary of the U.S. Dept. of Energy's Office of Environmental Management from 1995 to 2001 and as a senior staff lawyer for the Permanent Senate Subcommittee on investigations from 2001 to 2009, according to his LinkedIn profile.
In the Sept, 2021 announcement of Berkovitz' appointment as general counsel, SEC chair Gary Gensler, who had worked with Berkovitz at the CFTC as well, called him "a dedicated public servant" who "was instrumental in both informing and implementing the Dodd-Frank Act" and navigating the CFTC "through dozens of rulemakings to enhance regulatory of oversight of swaps markets."
While announcing his departure from the SEC, Gensler said Berkovitz' "counsel, judgment, and leadership have been invaluable to our work at the SEC."
Gensler also praised Barbero, as "one of the Commission's most trusted counselors" who will "bring a skilled and steady hand to the role of General Counsel. The SEC will benefit from Megan's incredible judgment and highest-level legal experience. She is a tested leader and just the person to succeed Dan during a critical time for our agency."
Like Berkovitz, Barbero is a veteran of WilmerHale, though the five years he spent there overlapped by only a couple of months with the nearly eight years Barbero spent at WilmerHale during the early part of her career.
Barbero left the firm in June, 2014 for a job as an attorney on the civil appellate staff of the U.S. Dept. of Justice from 2014 to 2019 where, among other things, she defended the Trump administration against accusations that the president's ownership of a Washington D.C. hotel violated anti-corruption laws.
She left in March, 2019 for another job as a litigator with the House general counsel's office, working under House general counsel Douglas letter, representing the House in legal fights with the Trump administration in cases that included the effort to force members of the Trump administration to respond to Congressional demands for information.
Barbero's work at the SEC has focused on litigation strategy and rulemaking – work called out by Gensler in statements about changes included the new clawback rule, climate risk, cybersecurity  proxy voting advice and best execution.