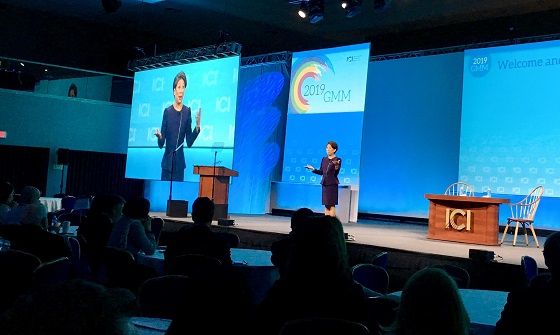 Fund leaders must have answers for how they will stand out from the crowd in a lower cost world, how they'll avoid the risks and enjoy the benefits of tech innovation, and how they can truly execute a global strategy in a world of fractured, and often unhelpful, financial regulation.
That's according to New York Life Investment Management CEO Yie-Hsin Hung, who kicked off this year's Investment Company Institute General Membership Meeting on May 1 in Washington, D.C. by challenging delegates to think hard about the three issues likely to have the biggest impact on the US fund industry in the coming years.
Hung, who heads up the global multi-boutique business which includes subsidiaries such as MainStay Investments and Index IQ, said that pricing competition had "done wonders" for investors but "opened up real questions for us as an industry."
Hung highlighted the trend of adviser firms cutting back on the number of fund groups they are dealing with, something she said will only heighten as more intermediaries prepare for the introduction of Reg. BI and increasingly move toward fee-based advice.
She said: "As more fund complexes develop more products at lower costs, the question is how do they separate themselves from the pack? What can fund complexes do to make sure they have a space on a shrinking shelf?"
Dealing with tech complexity
On the pitfalls and promises of new technology solutions, Hung acknowledged the huge potential of big data as a "treasure trove" of undiscovered information from "countless new sources."
"We are living in a world of machine learning and artificial intelligence," she added. "Enormous data sets can detect complex patterns and generate new insights, identify risks and even dispense investment advice."
Hung also welcomed the potential for robotics to automate mundane tasks, freeing up staff for more important work, and the promise of blockchain technology in terms of information security, the streamlining of compliance processes and speeding up transaction times.
But she warned that to achieve such benefits, fund groups will have to negotiate considerable complexities along the way.
"You can get access to many new data sets but not all of them are as complete, as consistent and as clean as we want them to be," she said. "So how do we ensure the quality of our data so that we are making smart, fact-based decisions?"
Hung also highlighted the challenges of deciding which of the numerous fintech firms "cropping up everywhere" will be truly useful for your business, and convincing "tech prodigies" leaving college that asset management is the career for them, when other trendy options are also on the table.
The CEO, who joined NYLIM in 2010 and previously worked at hedge fund giant Bridgewater Associates and Morgan Stanley Investment Management, also brought up the stark cyber threats facing the industry "that grow more sophisticated by the day, and frankly by the hour."
She added: "How can we best build a cybersecurity program that is robust enough to foil today's threats, while at the same time being nimble enough to deal with what we don't know tomorrow."
Global regulatory challenges  
Hung told delegates that global thinking was now a necessity, rather than an option, but warned of several obstacles that the fund industry would have to deal with.
"As countries tailor their rules to fit their own disparate needs, and advocate for their own interests at a regional level, we still remain some distance away from a regulatory landscape that enables fund complexes to use their resources as efficiently and effectively as they can," she said.
Hung also hit out at the "impractical supervisory approach" to fund regulation in certain jurisdictions.
She said: "As we work to capitalize on this global opportunity, how will we traverse this landscape and how will we adapt to the many byzantine, bureaucratic hierarchies and unfamiliar governance structures we will encounter?"
Hung warned of the potential for "friction" regarding distribution arrangements in certain regions, but also suggested that dealing with all such global challenges would be "well worth the effort."